| | |
| --- | --- |
| Clemson finishes No. 3 in final AP Poll | |
---
| | |
| --- | --- |
| Tuesday, January 12, 2021, 9:05 AM | |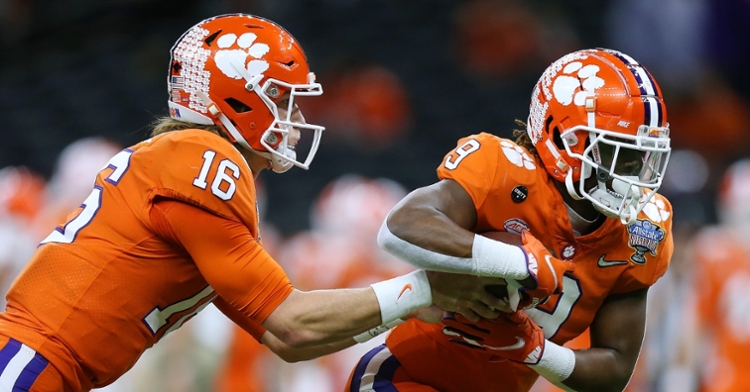 Another college football season is in the books and Alabama finished atop the nation in style with a 52-24 win over Ohio State in Miami Gardens Monday.
The Associated Press released its final top-25 shortly after and Clemson finished ranked No. 3. The new top-5 is Alabama then Ohio State, Clemson, Texas A&M and Notre Dame.
It marks a second time in three seasons that Notre Dame has dropped out of the top-4 after its Playoff appearance.
North Carolina was the next-best ACC team in 18th and then Miami in 22nd.
Clemson has finished third or better in five of the last six seasons and no worse than fourth since 2015.
RANK TEAM PV RANK CONFERENCE POINTS
1 Alabama (13-0) 1 SEC 1,525 (61)
2 Ohio State (7-1) 3 Big Ten 1,463
3 Clemson (10-2) 2 ACC 1,378
4 Texas A&M (9-1) 5 SEC 1,324
5 Notre Dame (10-2) 4 ACC 1,279
6 Oklahoma (9-2) 8 Big 12 1,243
7 Georgia (8-2) 11 SEC 1,144
8 Cincinnati (9-1) 6 American Athletic 1,074
9 Iowa State (9-3) 12 Big 12 1,035
10 Northwestern (7-2) 15 Big Ten 893
11 Brigham Young (11-1) 13 IA Independents 862
12 Indiana (6-2) 7 Big Ten 773
13 Florida (8-4) 10 SEC 764
14 Coastal Carolina (11-1) 9 Sun Belt 725
15 Louisiana-Lafayette (10-1) 16 Sun Belt 664
16 Iowa (6-2) 17 Big Ten 581
17 Liberty (10-1) 23 IA Independents 576
18 North Carolina (8-4) 14 ACC 532
19 Texas (7-3) 20 Big 12 485
20 Oklahoma State (8-3) Big 12 417
21 USC (5-1) 21 Pac-12 306
22 Miami (FL) (8-3) 18 ACC 284
23 Ball State (7-1) Mid-American 183
24 San Jose State (7-1) 19 Mountain West 80
25 Buffalo (6-1) Mid-American 51
Others receiving votes: Appalachian State 41, Tulsa 35, Army 24, Oregon 21, Memphis 12, TCU 12, UAB 10, Washington 10, North Carolina State 7, Nevada 7, Wisconsin 3, West Virginia 1, Marshall 1